7-8th of June 2014 
I did it again. Late one Wednesday night, I found myself booking a trip to Luxembourg flying out of London City Airport that Saturday morning.
My dear friend and former band mate, Claire, has recently started working part-time in London, part-time in Edinburgh doing PR for the rich and famous. The London-Celeb jet setting lifestyle evidently didn't take long to rub off on Claire. Before I knew it, she was pretty much typing in my credit card details for me, as we booked the 8:05 to Luxembourg City, on LuxAir. OK, maybe I wasn't quite as resistant. It had been a few months since my last trip, and I couldn't wait for the next.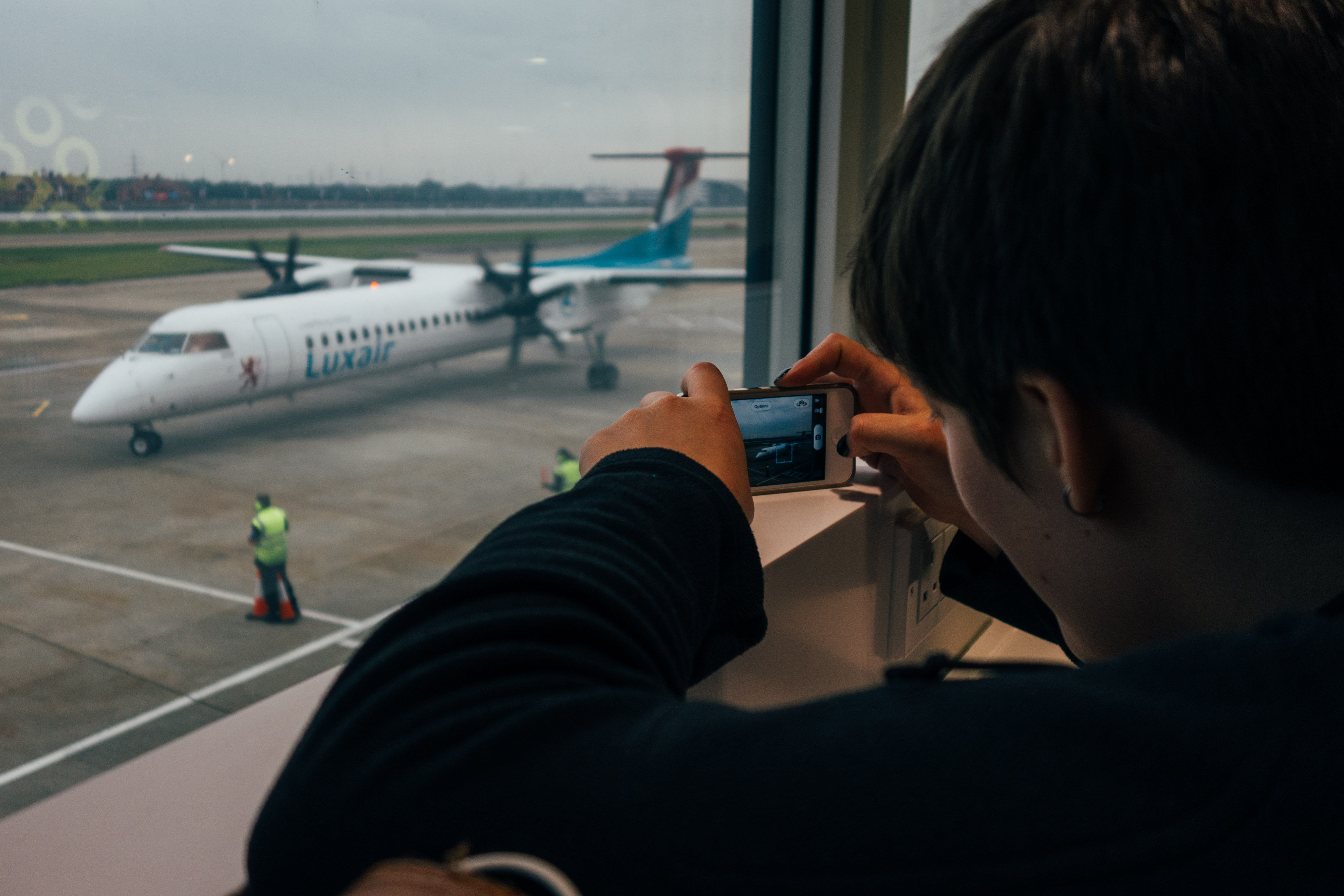 We searched for flights through a number of sites, but ended up finding the same prices on the American Express website, so we just booked through them. We were pleasantly surprised the costs, especially considering how close to departure that we booked. We flew with LuxAir and stayed at a Novotel in a twin double room. The breakdown was: Flights: £266.00 + Hotel: £77.02 = £343.02 (£171.51 each). Minus the €500 rebate for our delayed departure, we actually ended up £26.49 each. (Yes, we were paid to go on holiday!)
Luxembourg is a seriously green country. As we descended into Luxembourg City Airport, the thick forest and surrounding the city became increasingly dramatic. Before we had even touched the ground, there were trees above the wing tips.
After a brief ride from the airport, through yet more dense forest, we arrived in the European District of Luxembourg City. Our hotel, an endless number of banks, and a vast array of EU institutions call this area of Luxembourg City home. This area feels distinctly 'new' and is distinctly different from the beautiful old city which many would recognise as Luxembourg City. The roads are wide, the buildings are tall, clean and glass, and there were very few people around. After cluelessly staring at the blank looking buildings, we eventually found our hotel, checked in, dropped our bags off, and we were immediately back on the road.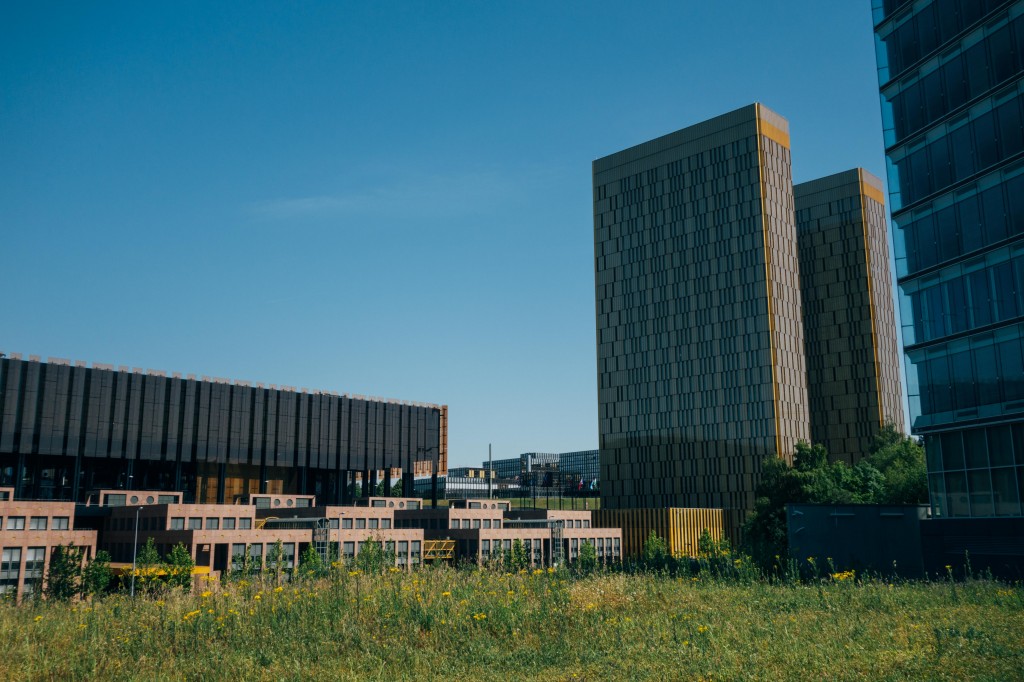 For our entire trip we had only one hard commitment. A kick-ass Segway tour. For as long as I have known about Segways, I've wanted to ride one, for no other reasons than to have tried it. I'm a helpless fool when it comes to innovative technology, and whilst the Segway might just be a glorified mobility scooter, it's gravity defying movement enchanted this poor sucker.
The centre of Luxembourg City isn't very big, so it wasn't very long until we stumbled upon our tour guide for the afternoon. After some brief introductions, and a one-to-one training session, we set off. The feeling of motion on the Segways is initally unsettling. To move forward you simply lean forward, changing your centre of gravity. All the Segway wants to do is stay up right, so as you lean, it begins to move forward to keep up with your leaning. The Segways move quickly, and before you know it, you're slaloming lamp posts, and photo hungry tourists.
We set off into into the roads of the city, following our tour guide through the narrow cycle lanes. Equipped with an earpiece we received a brief history of Luxembourg, from our tour guide whilst he kept everyone in check. As Claire and I were staying only for one night, this had to be the best way to see the city. We covered a surprising distance, including up and down a lot of hills which I really would not have fancied in the incredible heat we experienced, all whilst comfortable and cool thanks to the breeziness of the Segways.
Aside from the wonderful views, the tour was pretty uneventful. A local Luxembourg man however, who had decided to join the tour when seeing the Segways parked up in the street, clipped a curb as we turned onto a single lane bridge in the valley surrounding the city. By this point in the tour we were all confident on the Segways so were traveling with some speed. Clearly the guy hadn't seen the curb, and flew off, ankle first, onto the ground. I was ahead of him at this point, and heard the loud crash behind of the Segway flipping. Before we know it, the poor guy was on a stretcher and our tour was one shorter. The lead tour guide managed to drag the second Segway along behind his for the remainder of the journey, albeit a little slower. We finished up after a quick elevator ride through the rocks, over looking the beautiful city. This was a lovely place to survey the city  For £25 each, the tour was terrific value for money. If you see a Segway tour, and you're tight for time, give it a go.
The rest of our first day was spent slowly wandering around the narrow streets as the late sunset arrived. The old city isn't a difficult place to burn some time. We found some street cafes to grab a drink, and hopped between  quaint government buildings and beautiful churches.
I had heard from a colleague before visiting that Luxembourg City wasn't great for food. I wouldn't say that the food on offer was bad, but nothing seemed to jump out at us. We ended up at a safe Italian restaurant down a backstreet off the main square. £30 for a nice enough meal for two with a couple of drinks. Luxembourg again surprises on the affordability front.
Gathered in the main city square that evening, the residents of Luxembourg City enjoyed music, dancing and conversation. The square was packed with people of all ages having a great evening. The square was lined with stalls from all the local breweries, were I indulged on a selection of the local lagers. I am rather fond of the european 'beer cup tradition' that Luxembourg City seemed to implement so well. Essentially, you pay a €0.50 up front fee with your first drink, and get this nice plastic cup. Each time you buy another drink, you exchange your cup for a nice new one. At the end of the evening, you get your €0.50 back. Nice.
As we lay on the grass, the sky darkening, and the music slowly ending, the relaxed and friendly atmosphere of Luxembourg City flooded through me. All stresses of London life left me at that moment. I was content. I remember Claire finding my contentness unnerving. I suspect I looked bored or uninterested in what was happening, but that couldn't have been further from the reality. In the rush between trying to actually leave London, and the slight drama of our Segway tour, I hadn't stopped to take in the city, breath, relax, and sink into my thoughts. That evening, Luxembourg had a very disarming effect on me. It felt safe, friendly and relaxed.
Shortly afterwards, the square cleared and we took a short walk to a nearby bar. We ended up in some fairly standard bar. Nothing to write home about, other being rather busy. Oddly though, it was with within touching distance of the Royal Palace…which was rather odd. We saw very few places that looked inviting, so only stayed in town for a couple of drinks. It was busy, but we'd had enough, so we grabbed a taxi back to the hotel.
The next morning we thought we'd walk into town instead of taking the bus. Walking through the European District, Claire and I were both stunned with how lifeless the area was. Aside from the many European flags softly fluttering in the wind, the whole area was dead.
We walked up to the doors of the European Investment Bank; no one. We climbed through the anti-protest barriers at the 'Ministère du Développement Durable et des Infrastructures'; no people, no security. But the steps were covered in graffiti proclaiming 'No Borders. No Nations' among other things. For all we know, this may have been quite typical for a Sunday morning in Luxembourg.
We sat for sometime on these steps on the building, enjoying the shade from the incredible sun that was beating down on Luxembourg that day. The unsettling quietness of the area was somehow inviting, and it felt as though we shouldn't have been there. Everything was unguarded. I could touch the glass and see the X-ray machines inside, but no one cared.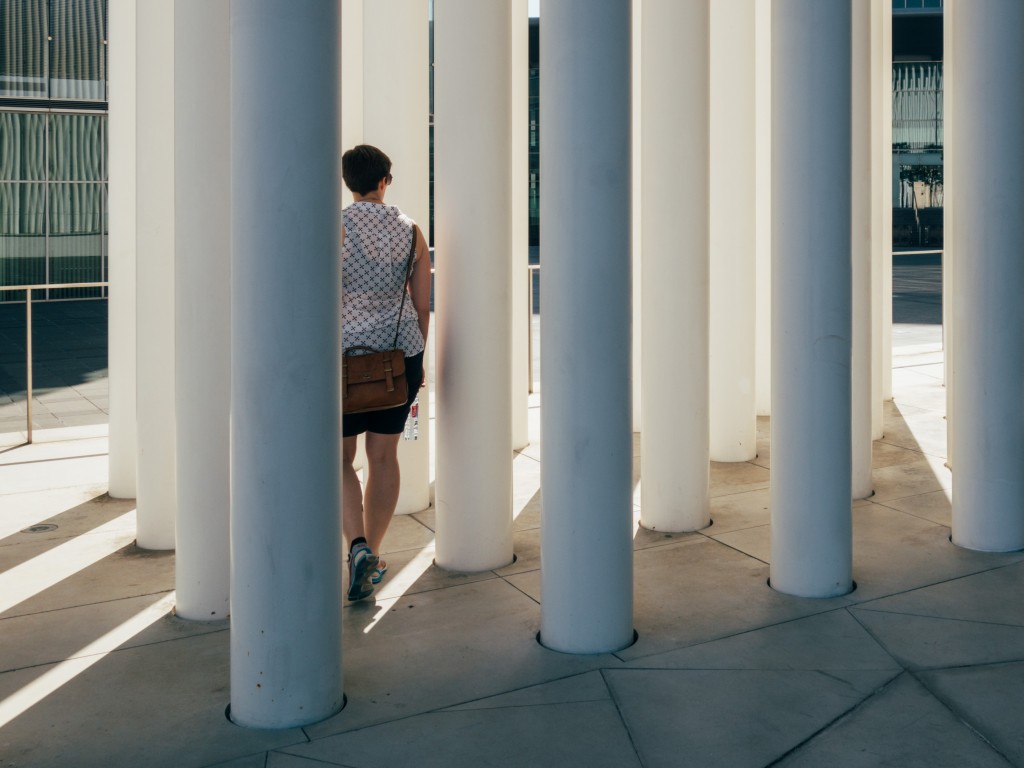 The European District is also home to the 'Philharmonie Luxembourg' – a beautiful concert hall. Again, deserted, Claire and I snaked between the pillars that surrounded the building, like i'm sure I would have done as a child.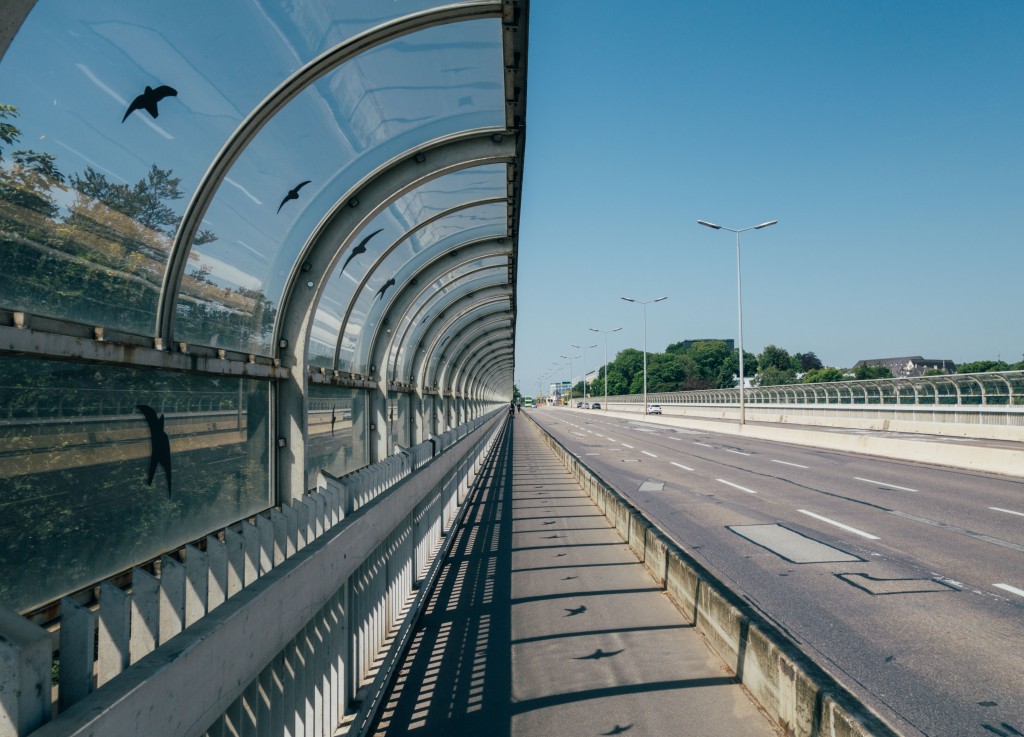 We walked over the long bridge into the historic city centre enjoying the breath taking views. Again we looked for a place to have breakfast/lunch but ended up in McDonalds. It wasn't the worse meal ever. It was handy, and cheap.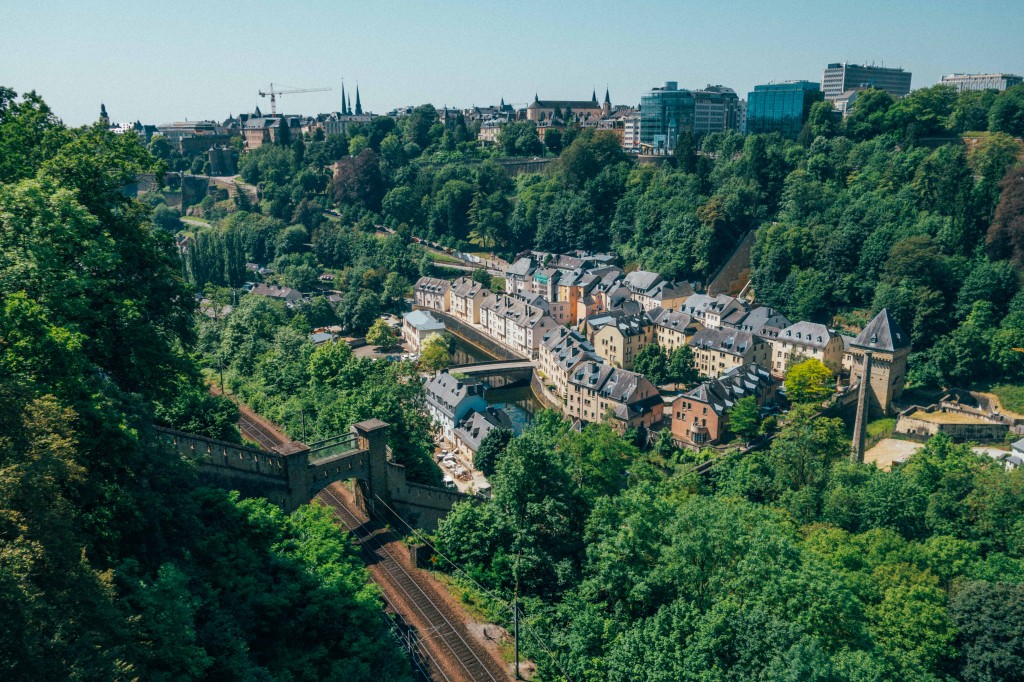 For such a small city, Luxembourg has an astonishing history. One piece of Luxembourg history which I found particularly intriguing was The Casemates. The Casemates are a series of tunnels, reaching a combined length of 22KM in total. These defences were begun by the Spanish in 1644, and continued to serve the people of Luxembourg up until World War II. Today, visitors receives tours from students through a limited section of the tunnels.
The natural air conditioning which the tunnels seemed to create was a blessing in the height of the afternoon. A set of stairs, near the edge of the old city, serves as the tourists entrance into vast world below. The low ceilings, and steep slippery stairs kept both of us on our toes. The tour was excellent, despite the somewhat broken English of the young man leadings us around.
It was easy to imagine the men packed into these smoke filled caverns, firing muskets and canons through minuscule windows towards the advancing enemy, whichever country it was at that time. At one stage or another, The Casemates were held by just about every country in Europe, often not by the same force that held the city above.
For Claire, there was one particularly nice coincidence about our time in Luxembourg. As long as I've known Claire, she has loved Harley Davidson Motorbikes. She still talks about getting the old gang back together, and crossing America coast-to-coast, on the back of a Harley. The weekend we were staying in Luxembourg, the 'Harley Owners Group' were meeting, and boy where there a lot of bikes. You could hear these beautiful American made motors a mile off, with their machine gun like exhaust pipes firing relentlessly as the bikers revved their engines excitedly. We took sometime to admire the bikes, each of which had been carefully customised to the tastes of each rider. The 'H.O.G' were a cheery lot. There was a genuine sense of community amounts the men and women, who were far from the biker brutes Holywood prescribes. I even snapped one Belgian biker filming an American Gospel Band in the city square.
As our Sunday afternoon drew to a close, Claire and I walked the streets which I was starting to become most familiar with. We were both working the next morning, so in the interest of a drama free return leg, we caught a bus, a little earlier than we may have needed to, and made it to the airport with plenty of time. The return journey was pleasant. As we drifted out of Luxembourg I reflected on how much it felt as though we had fit into such a short period of time.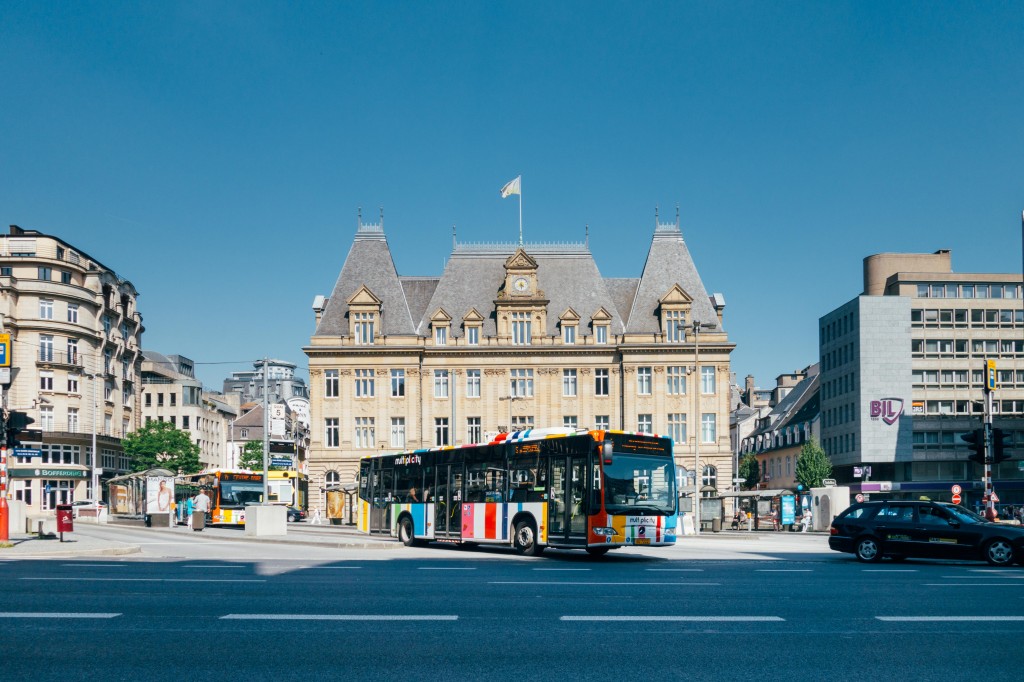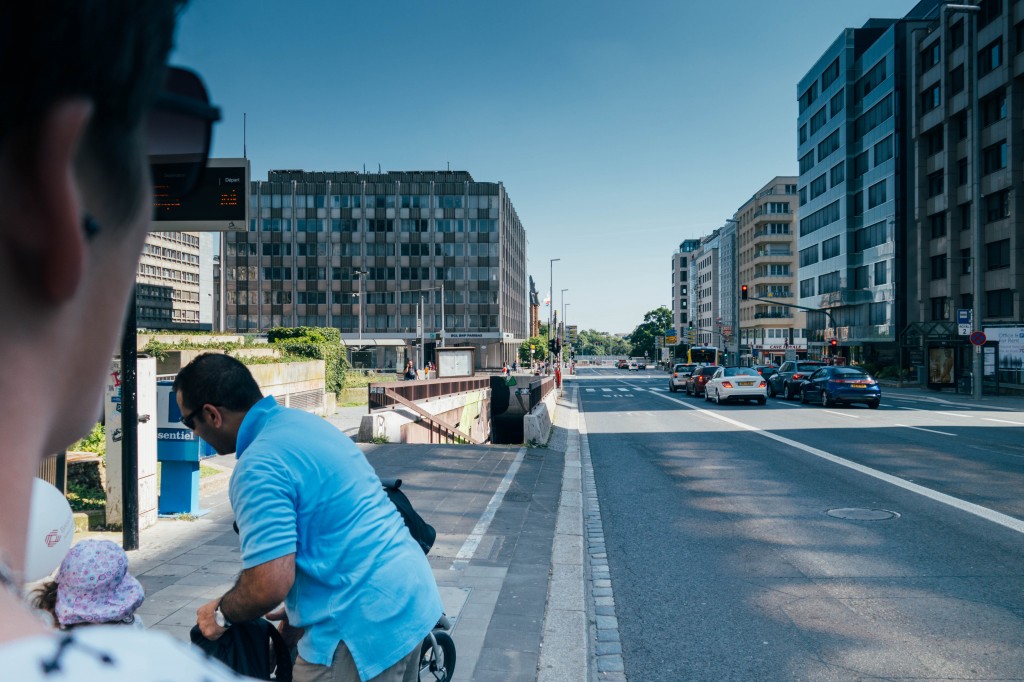 This is one of the great things about living in London. You're living in the centre of the world. London looks at every corner of the world, and everywhere looks back. If you want to go 'somewhere', London is where you start. If you want to follow a certain career path, or passion, London has it. If you want to meet a certain kind of person, eat a certain kind of food, listen to a certain kind of music, London has it. London is it.
There are many things about London that irritate me, but it's the centre of the world, and I can't help but love it.